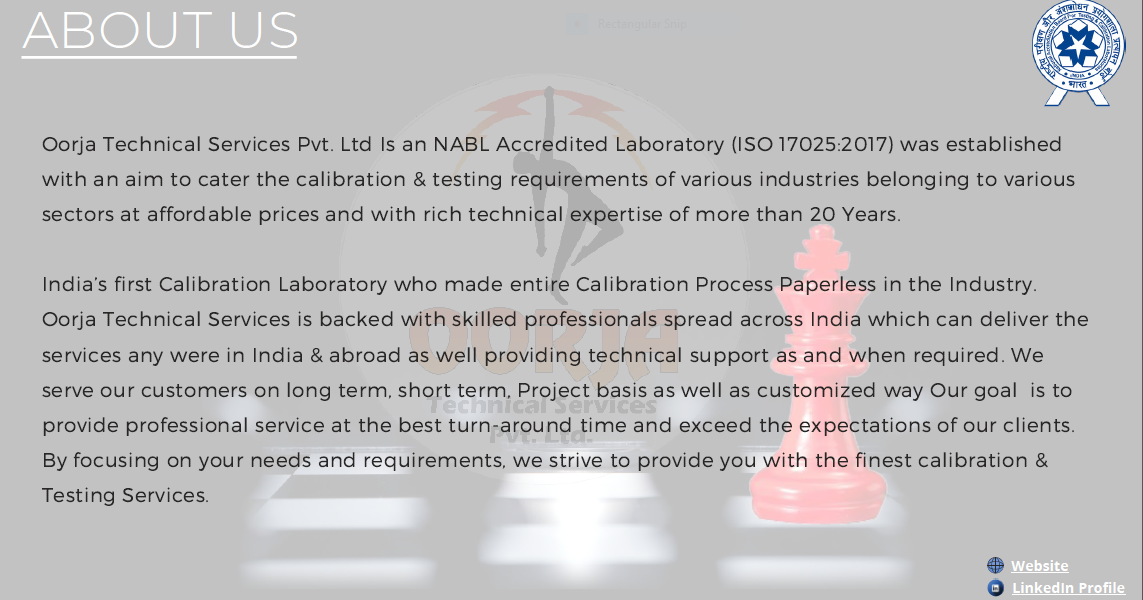 Oorja Technical Services Pvt Ltd is a Leading conglomerate of Calibration and Validation services. Always striving to ace the process, and deliver satisfaction, a constant effort is put in by the team to understand the accepted standards and guidelines and rejuvenate the practices as per improvements.
Centrally centered in Indore since 2004, route to PAN India presence was realized with a steady and confident pace, not only by manifesting patron entrustment by clear transparency in operation and certification as our prime intension, but also on-time deliverance of service.
Addressing varied species of companies, including but not limited to, Chemicals, waste water, rubber, paints, plastics, fertilizers, electrical, etc. we especially savvy in Pharmaceuticals, and understanding their audits and other requirements to a peerless caliber.
Calibration embraces Thermal, Electro- Technical and Mechanical streams and Validation revolves around various Pharma equipment, storage areas, refrigerated vans, steam, autoclaves, sterilizers and HVAC to name a few.
Oorja Technical Service Pvt Ltd is a expanding the scope of service of electrical poer industry and maintenance services such as Transformer oil filtration, Circuit Breaker testing, Relay testing- (Electromechanical & Numerical), Electrical Cables testing, Transformer Oil testing, Power / Distribution
Transformer testing, Current Transformer & Potential Transformer testing, Earth pit testing, Overhauling Work of circuit breaker and Power/Distribution Transformer, Oil leakage arresting service.
Time-Line of Achievements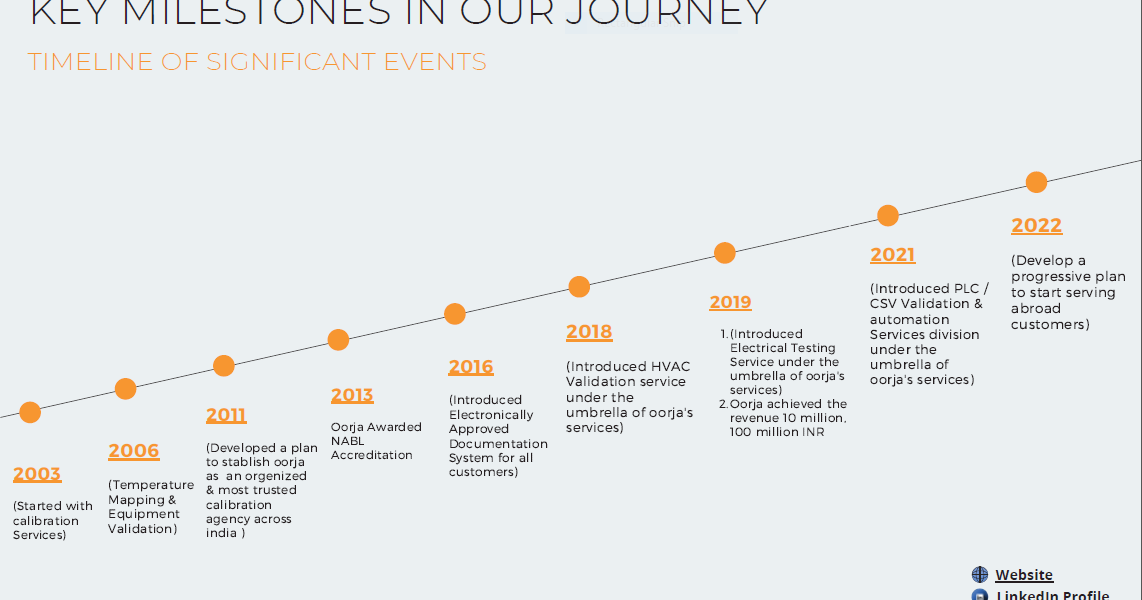 Maturing Professional, Personal and Organizational targets gracefully, by creating work-friendly atmosphere on the basis of learning by sharing and, which helps forging customer relationships with true service and accountability.Being authoritative to patrons and avoiding fraudulence in any form is abstain and disciplinary / tutoring actions against suchill-conductance is kept unavoidable for keeping work ethics clean.
Data Integrity and Work related Privacy between patrons is of immense importance, and achieving this thoroughly, is by digitizing the process to the core. Successful designing and execution of Cloud services, exhibit the paperless and secure approach we aim for.
Amalgamating all of this together, at Oorja, we make sure not only to stay ahead technically but also promote standard practices, with best ideas to replicate them in the execution with point accuracy.